Considering an Italian Restaurant in Manchester but unsure which establishments offer the best pizzas or the most delicious pasta.
We have compiled a list of the best Italian Restaurants Manchester can provide, so if you are looking for a place for a family get together or a birthday celebration, or maybe a night out with friends, check out:
12 Best Italian Restaurants Manchester Has To Offer
Don Giovanni
Peter House, 1 Oxford St, Manchester M1 5AN
As Manchester's longest standing independently owned Italian restaurant and winners of multiple awards at Don Giovanni, they know a thing or two about Italian cuisine. They pride themselves on offering their guests delicious, authentic Italian dishes, using fresh, quality and locally sourced produce. The Italian culture is showcased at every opportunity with all the pizzas, breads and pastas being made in-house. All this combined with an impressive and extensive wine list makes for the perfect evening out.
Here we show you a snippet of the stunning menu.
LOBSTER THERMIDORE
——GF WHOLE NATIVE SCOTTISH LOBSTER, LOBSTER MEAT PAN FRIED IN ONION, PARSLEY, EGG YOLK, CREAM, TOUCH OF TOMATO & ENGLISH MUSTARD. TOPPED WITH PARMESAN & FINISHED IN OVEN——
SPAGHETTI CARBONARA
——GUANCIALE & CRUSHED BLACK PEPPERCORNS MIXED WITH EGG YOLK & CREAM—–
GNOCCHI AL POMODORO
—–MINIATURE POTATO DUMPLINGS COOKED WITH MOZZARELLA, TOMATO SAUCE & BASIL—–
GAMBERONI GRIGLIATI
—–PAN FRIED KING PRAWNS WITH LEMON, EXTRA VIRGIN OLIVE OIL & CHILLI ON TOASTED CIABATTA—–
RISOTTO DI MARÉ
—– RISOTTO WITH SQUID RINGS, MUSSELS, BABY PRAWNS & FRESH CLAMS—–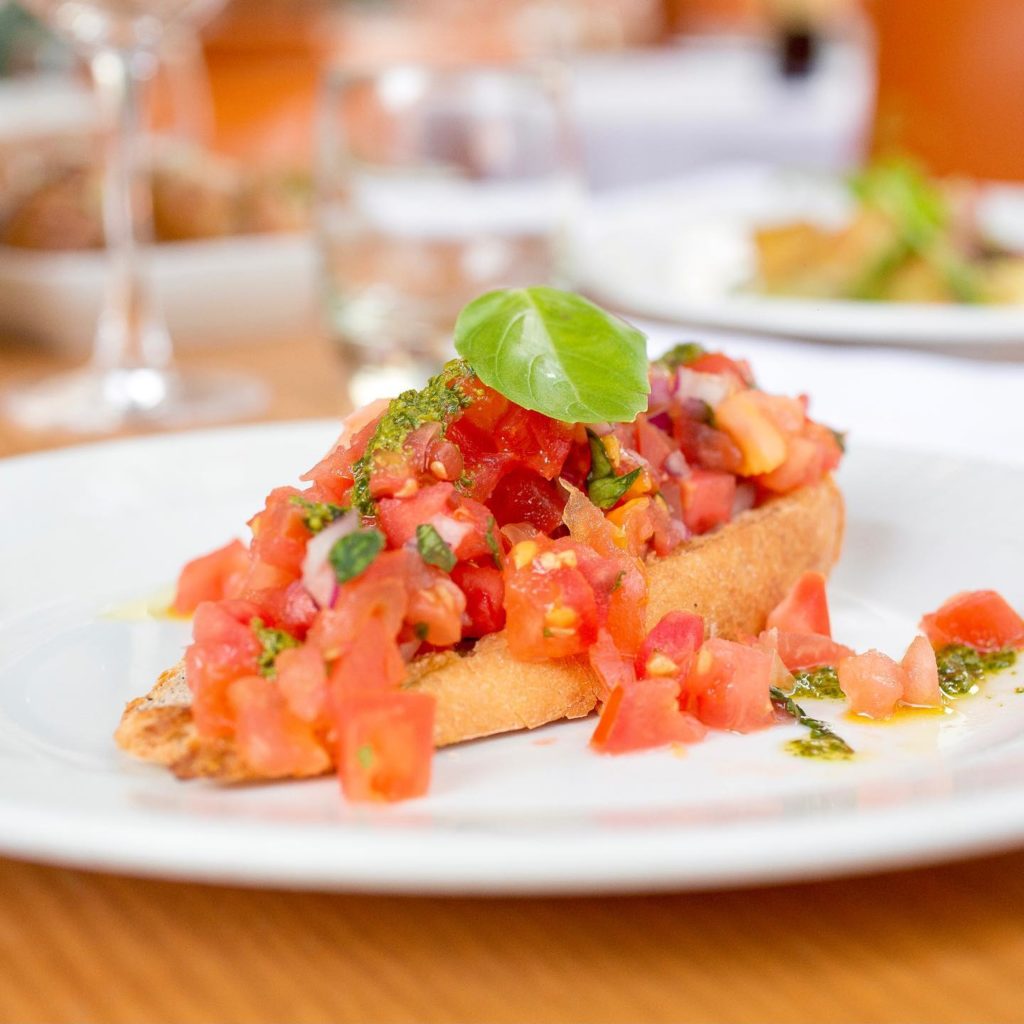 Don Marco
1-3 Campfield Avenue Arcade, Manchester M3 4FH
Italians are renowned for taking their culture, and in particular their food and hospitality, very seriously. At Don Marco this is evident immediately, from the warm, friendly welcome to the authentic and inspiring menu. The restaurant itself offers a heady combination of traditional Italian charm and modern trend. Some of the stars of the menu are shown below.
SPAGHETTI GRANCHIO
—–Devonshire white crab meat, cherry tomato, chilli and courgette—–
RAGU CINGIHALE CON TAGLIATELLE
—–Rich 6hr cooked wild boar ragu, sweet marsala wine, black pepper, pecorino. Or you can have with gnocchi—–
LASAGNE AL FORNO
—–Traditional baked layered pasta with bechamel and beef ragu—–
NASELLO
—–Roast fillet of Hake with creamed shellfish rice, crab, tiger prawns. Shaved fennel and cucumber—-
BURRATA E ZUCCA
—–Creamy artisan Italian burrata cheese with roast squash, heritage beetroot, orange and toasted pumpkin seeds—–
RISOTTO MANZO
—–Slow cooked beef short rib risotto with celeriac, red wine and pecorino—–
Salvi's
1 The Corn Exchange, Corporation St, Manchester M4 3TR
In Italy, family culture is everything and at Salvi's, family have inspired the birth and evolution of the restaurant. Named after the owner's father and inspired and influenced by his mother's kitchen in Naples, Salvi's is the epitome of an authentic Italian. A family run restaurant offering honest hearty Italian cuisine some of which is showcased below.
Pasta with Italian Salsiccia
—–Pasta with Italian sausage in tomato sauce—–
Pasta Mare
—–Mixed seafood in tomato sauce —–
Gamberetti Grande
—–King prawns with lemon juice, white wine and garlic—–
Salsiccia Italiana
—–Fresh Italian sausages served with mixed roasted vegetables—–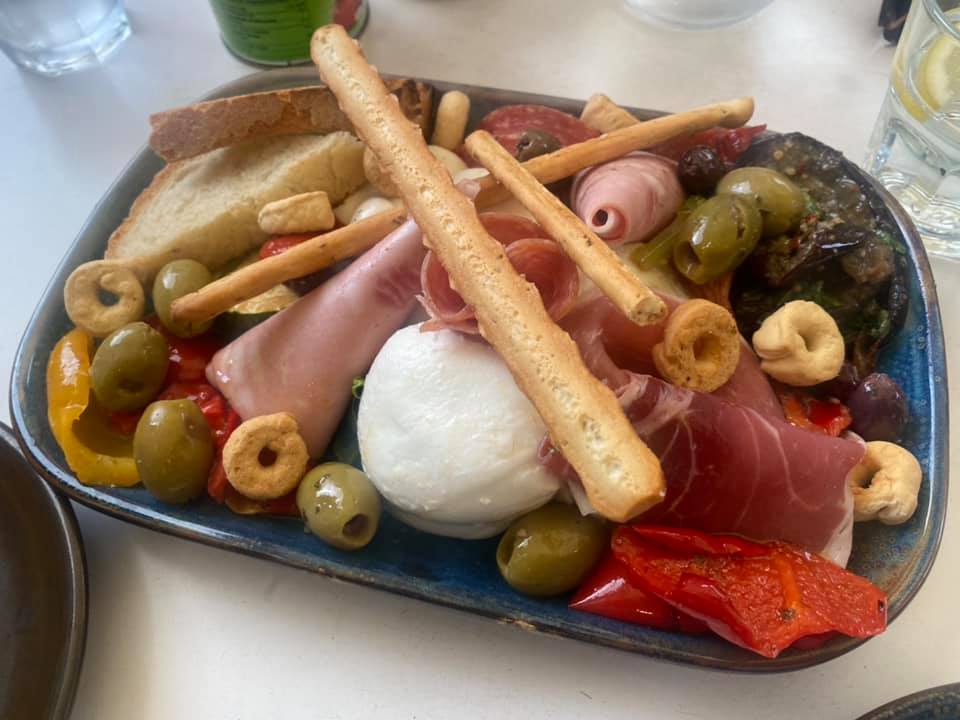 Dom's Tavola Calda
40-42 Deansgate, Manchester M3 1RH
Serving both traditional Italian favourites as well as modern trendy dishes that change with the seasons, at Dom's Tavola Calda you can enjoy a truly Italian experience. The restaurant offers a trendy yet family friendly vibe and is conveniently located in the centre of Manchester city. The mouth-watering menu offers a fabulous variety of antipasti, as well as mains and desserts. Some of the stars of the menu are shown below.
Calamari Fritters
—–deep fried squid, served with lemon and tartare sauce—–
Pollo Dolcelatte
—–chicken breast cooked in mushroom, white wine and dolcelatte sauce—–
Penne Vodka and Salmone
—–penne with onions, olives, salmon flakes, vodka, capers and cream—–
Bistecca Diana
—–sirloin steak cooked in traditional Diana sauce—–
Paccheri Genovese
—–paccheri with slow cooked beef, onions, beef jus and tomatoes—–
San Carlo
40-42 King St W, Manchester M3 2WY
Super – chic, open plan and popular with celebrities, at San Carlo you are assured the very best in ambience, service and of course, authentic Italian food. The up- scale, modern and contemporary setting creates a lively and trendy atmosphere. The impressive menu offers guests luxurious choices in antipasti, exciting main dishes and sophisticated cocktails. Some top pocks from the menu are shown below.
Colchester Rock Oysters
—–Served with shallots in red wine vinegar and tobacco—–
Avocado Bernardo
—–Avocado with lobster, scampi and prawns, served with marie rose sauce—–
Rigatoni alla Norma
—–The most popular pasta dish in Southern Italy, with aubergine, tomato, basil and garlic, topped with pecorino cheese—–
Spaghetti Gamberoni Piccanti
—–Thin spaghetti with king prawns, hot chilli, anchovies, capers, olives, fresh parsley and San Marzano tomato—–
Fresh Lobster Thermidor
—–Double cream, English mustard, tarragon, parmesan cheese finished under the grill—–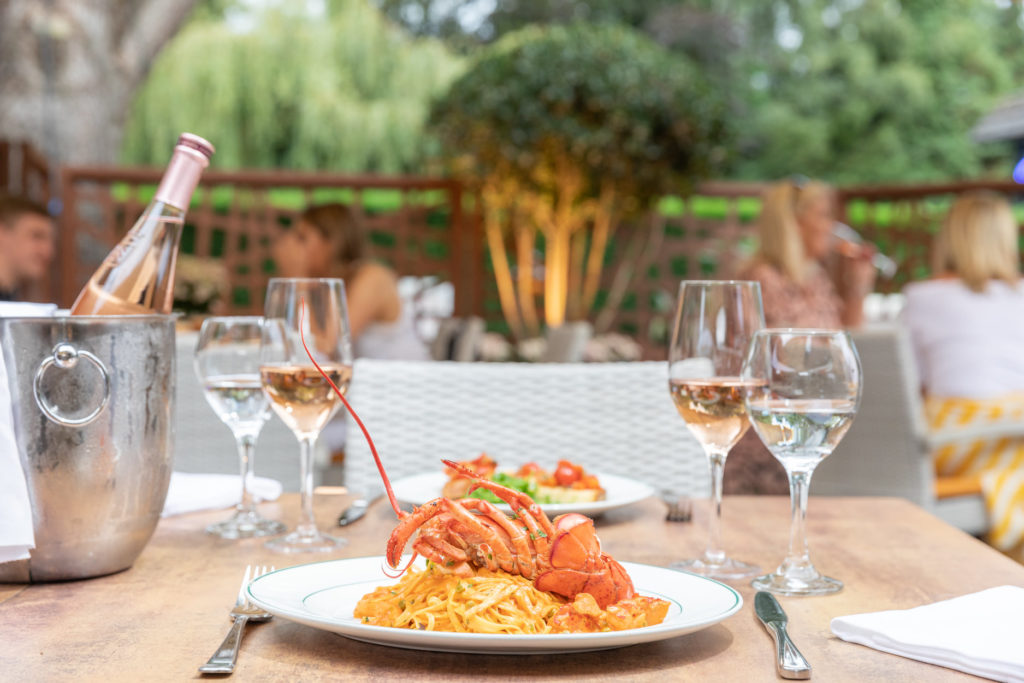 Pizza Hut
15 Corporation St, Manchester M4 3AG
6/12 Fountain St, Manchester M2 2AA
Manchester Fort Shopping Centre, Cheetham Hill Rd, M8 8EP
Parrs Wood, Didsbury, Manchester M20 5PG
Unit 16 The Orient, The Trafford Centre, Bartondock Rd M17 8EB
With various restaurants conveniently located within easy walking distance from the cinema, football museum and Manchester Arena, Pizza Hut is the ideal refuelling destination after a busy day out in Manchester. Offering all the mouth-watering menu options you expect from The Hut, they also offer exciting special dishes and serve alcoholic and non- alcoholic beverages too. The superb Unlimited Lunchtime Buffet is available weekdays until 3pm and includes eight pizza options and a variety of pasta dishes. Vegetarian and vegan diets are also catered for.
Pizza Express
Piccadilly Gardens, Manchester, M1 1RG
Ground Floor, 84-86 King St, Manchester M2 4WQ
3 Tony Wilson Place, First St, Manchester M15 4FN
Unit 3A The Corn Exchange, Exchange Square, Manchester M4 3TR
Unit B, St James's Bldg, 61-95 Oxford St, Manchester M1 6FQ
95 Lapwing Ln, West Didsbury, Manchester M20 6UR
Pizza Express really do know their pizzas! They offer an extensive selection of flavours and toppings and cater for vegetarian, vegan and gluten – free diets. With restaurants ideally located in and around Manchester City Centre, a Pizza Express venue is the perfect place to relax after a hard day of shopping or exploring the city. Some restaurants offer al fresco dining areas for guests to enjoy during good weather. Be sure to add a side of famous Pizza Express Dough Balls to your order, delightful bready bites, dripping in garlic butter. Yum!
Bella Italia
Unit R8 Arndale Shopping Centre, Manchester M4 3AQ
Lowry Centre, Unit G40a, Manchester M50 3AZ
There are two Belle Italia restaurants in Manchester. They offer traditional Italian cuisine, including a variety of pasta and pizza dishes. At the Belle Italia restaurants, you can expect a trendy and casual vibe, where friends and family can meet and enjoy a relaxed meal. You can tuck in to all your Italian favourites, including Lasagne and Carbonara, or perhaps try something you have never had before, that is sure to be equally as delicious. How about indulging in an Italian Bottomless Brunch? Served at weekday lunchtimes, it includes endless pizzas and plenty of prosecco!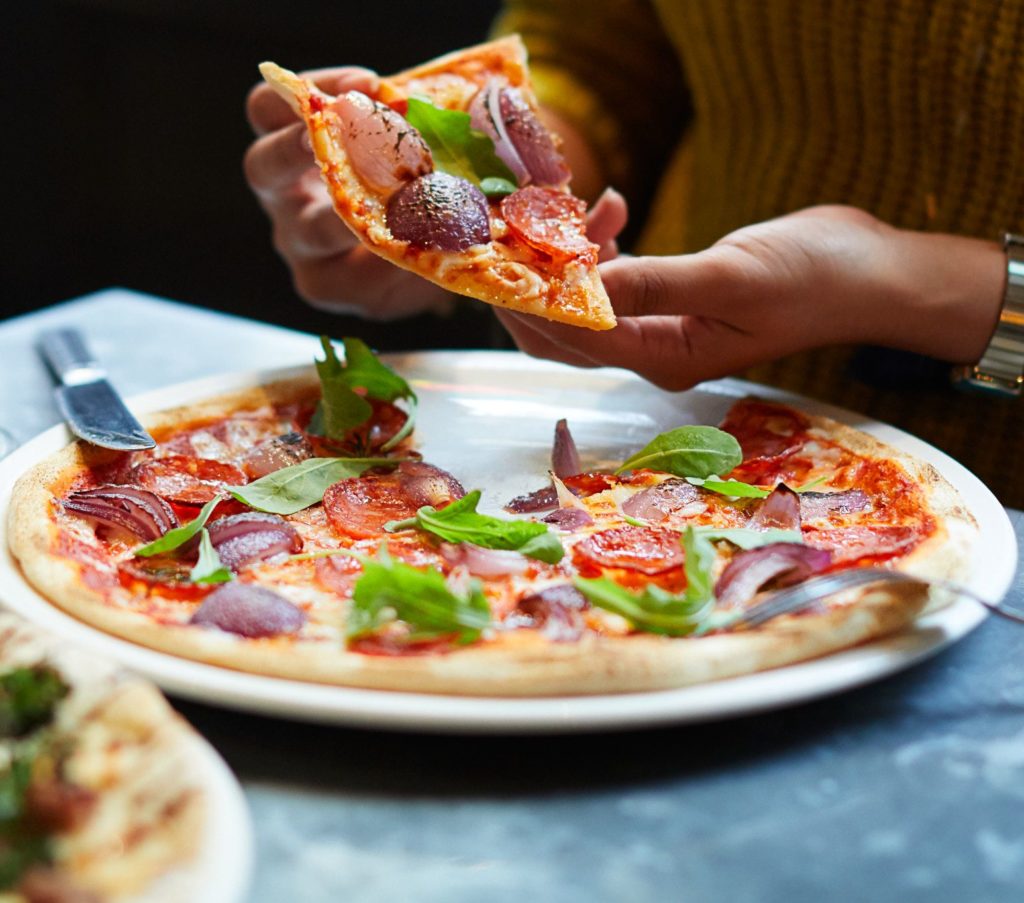 Ask Italian
One Piccadilly Gardens, Manchester M1 1RG
Ask Italian Restaurant in Manchester looks out over the beautiful Piccadilly Gardens and is conveniently situated near all the most popular site seeing spots around the city. It is known as an upbeat, vibey eatery, frequented by all ages, tourists, and locals. The chefs prepare authentic Italian cuisine, with many of the ingredients direct from Italy. The dishes are served by enthusiastic friendly staff. In addition to the delicious main courses, Ask also pride themselves on serving an exceptional range of mouth-watering desserts. Delizioso!
Prezzos
Orange, 101-110 Broadway, Salford M50 2HQ
With over 150 restaurants nationwide, Prezzo are certainly an authority when it comes to preparing Italian food. The ethos at Prezzo is to provide a relaxed and comfortable atmosphere where friends and family can enjoy authentic Italian cuisine. As well as scrumptious pasta and pizza dishes, they are also renowned for their fabulous risottos and sophisticated appetizers.
Frankie and Benny's
Unit 15, 27 Withy Grove, Manchester M4 2BS
At Frankie and Benny's you can be sure of a warm and friendly welcome, a relaxed atmosphere where all the family feels at home, and honest Italian inspired food. They serve old favourites such as lasagne and meatballs, as well as fresh twists on traditional classics. There's a thoughtful kid's menu and an excellent choice of desserts, with some being particularly indulgent! Frankie and Benny's menu caters for gluten free and vegan diets. Each restaurant proudly displays décor and memorabilia from 1920's Latin – America and upbeat enthusiastic music playing in the background helps to achieve a fun and enthusiastic vibe.
Zizzis
The Corn Exchange, Exchange Square, Manchester M4 3TR
Piccadilly Gardens, Manchester M1 1LU
120 -122, The Orient, The Trafford Centre, Trafford Park, Stretford, Manchester M17 8EH
At Zizzi's they strive to provide an environment where friends and family can meet, enjoy a sociable drink and a delicious meal together. With tasty Italian dishes including carbonara, risotto and pizza on the menu to satisfy the lovers of the Italian classic's, at Zizzis they also offer fresh, innovative dishes such as vegan jackfruit pepperoni and wild boar meatballs! Ideal for those who love to try something a bit daring and different. At Zizzi's they cater for meat-eaters, vegetarians, vegans, and gluten free diets so everybody is sure to feel welcome and looked after.